With so many options for bike phone mounts on the market, it can be hard to see the good from the bad.
However, making the right decision is important. Especially as these devices will hold your expensive mobile phone.
Considering the cost of your phone, you'll want to make sure it's securely attached.
Quick links for more Information
Bike phone mounts reviewed
Considerations for buying a bike phone mount
Phone Mount Recommendation
Types of phone mounts
Mount and case
These are very similar to a normal bike computer in the way that it works. A bike computer clips into a base mounted on your handlebar. The case has a built-in mounting point that clips into the mount securing your phone to the bike.
These can either be mounted on your handlebar or the stem. All the systems like Quad lock, Morpheus labs M4s, or Topeak use a dedicated case designed for your phone.
They allow for mounting in either portrait or landscape and depending on the size of your phone will depend on where you mount it. If you have an extra large phone and mount it on the stem in landscape you could find that your knees hit the phone.
Most cases in these systems can be used for everyday use with only a few minor drawbacks for things like wireless charging. the case locking mount interfere's with wireless charging.
Universal mount
This type of mount offers you the most choice if the above systems don't make a case for your phone. With the changes in technology, most universal mounts come with some form of silicone web to keep your phone secure.
These have the advantage that you don't need to change your mount when you change your phone. That is also a disadvantage as I believe that your phone is not as secure as the case mount.
They also don't provide a waterproof system for your phone. So you'll need to invest in a case that is waterproof.
Frame bag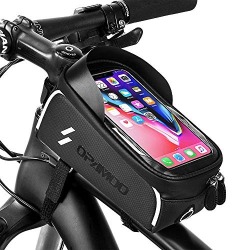 The frame bag mounts to your bike just behind the stem of your bars. These offer additional storage as well as a phone holder.
The phone slips into a clear plastic pouch on top of the bag that allows you to view the screen. In my opinion, this type of bag is the most dangerous of the 3 methods unless you are prepared to stop your bike to use your phone.
The reason behind this is you have to look further down taking your eyes off the road ahead. You'll also need to reach down further to operate your phone.
I've used these types in the past. While the extra storage is nice I found the phone slips around in the plastic pouch. With the home button disappearing under the plastic so it couldn't be used.
bike phone mounts reviewed
The Morpheus Labs M4s bike phone mount is a masterclass in German engineering and quality. Unfortunately, they only make the cases for iPhones so if you are using an Android phone this system isn't for you.
The system works by integrating part of the locking mechanism into a slim rubber case. While I like the feel and the size of the case I don't use it every day as it won't work with wireless charging. The addition of a waterproof cover helps to keep your phone dry against the unexpected rain shower
The waterproof cover will hamper the use of the screen if you're using a thick screen protector. While the Dual locking mechanism on the base gives peace of mind that it won't move even on extreme rides.
The first lock is a powerful magnet, this alone would not be enough for the more adventurous rides. Morpheus Labs have provided a second manual lock that adds extra security.
The mount is very easy to attach and remove thanks to its Quick release fastener. The thickness of your bars are also not a factor as they can accommodate bar sizes from 22mm (0.87inch) – 38mm (1.5inchs)
The Quad lock system is well made and simplistic in design. Initially, the Quad lock system was only available for iPhones. But over the last 2 years, they have expanded the system to all smartphones.
This has been done by expanding their range of cases available and adding a universal adaptor. the adaptor is stuck onto the back of your existing case and held in place with adhesive.
The purpose-built cases feel nice to the touch. Yet it's rugged enough to protect your phone, This system also comes with a protective rain poncho.
The poncho that comes with your case does hamper your use of the screen. While some reviews have also stated that "once water gets into the case it can't get out".
At the time of writing this review, a few defects have been reported. A few of the iPhone cases seem to block the camera lens. While other reviewers have stated that "the case starts to go yellow after a while" small issues but ones to be aware of.
The mounts are easy to attach and remove from the bike, and attaching your phone once in the case is a simple twist. Once locked in the phone is going nowhere.
There are 3 bike mounts to choose from a stem mount and 2 handlebar options. Both of the handlebar options have the ability to mount a light under them freeing up space on your bar.
All 3 mounts offer the same dual-locking for extra security.
The IPOW is a universal bike phone mount is compatible with most smartphone models.
This mount won't work with the largest of smartphones and this is due to the width of the plastic opening. The hard plastic will accommodate phones up to 91cm (3.6inches) wide. The way the plastic holder opens means that larger phones are not held centrally but to one side.
Your phone will be held securely thanks to the silicone butterfly band. No tools are required to mount to your bike, installation is quick and easy.
IPOW has updated this product based on feedback. The base clamp has been updated along with the silicone bands for better security of your phone.
I did find that on longer more extreme rides the ball joint kept moving the phone position. I sorted this by moving the mount and base to a position that it could not move IE resting at an extreme angle. This still allowed me to have my phone in any of the 360 deg's orientation I wanted.
I have used this phone mount on my everyday commute to work (12 miles). I didn't experience any issues with this phone mount.
The Roam universal bike phone mount gives you the option to mount any phone. The kit comes with three sizes of silicone clamping options to cover all phones.
The simplistic design means it's easy to swap the silicone web for a different size, if necessary before fitting it. This system utilises six point securing. The four corners with the silicone web, and a plastic clamp in the middle.
The phone mount is made from hard plastic. The base unit comes in two parts allowing for the different size of bar it can attach to. I found it to be simple to attach with no tools required.
both the base securing and phone securing mechanisms, means that installation and removal of your phone and mount is quick and easy. One of the downsides we found was that the ball clamp needed to be tightened periodically. While on extreme rides the phone would move.
This product comes with a lifetime warranty.
This Cawcar universal bike phone mount is a rugged design that comes fully assembled.
The body is made of toughened plastic and metal. The six point holding system uses a silicone strap to hold the corners of your phone. The phone clamp opens on both sides holding your phone central to the mount.
The silicone grip inside the claw of the mount ensures the holder won't slip even on the most adventurous of rides. With a wide opening the holder can accommodate any phone currently on the market.
Some reviews have said the "Ball clamp comes lose over time", so be sure to check before your ride. With it's large claw grip this mount can attach to most bars.
The installation and removal is quick and easy thanks to the no tools turning lock. The lock being of metal is nice and means you shouldn't strip the threads when tightening it down.
Considerations for buying a Bike phone mount
Why a Phone mount
They secure your phone to your bike. This takes the hassle out of carrying it in your pocket where it could potentially get dropped, damaged or lost.
With it secure on the bike it leaves you free to glance down at the phone quickly to see your route. The ride details like speed, heartbeat, calories burned etc all the while safely riding up the road.
It allows you to follow a route that you have planned out, which can be read at a quick glance. It means that you have a hassle free ride without having to stop and get your phone out.
Adjustability
With so many options of mobile phones these days nobody really knows what their next phone will be until they are ready to purchase it. Thinking ahead when purchasing a bike phone mount is important.
You want a mounting system that will allow you to change phones without having to keep changing the phone mount on your bike.
You want to make sure that you've enough adjustment to mount the phone in the position you want and at the angle you want. Without having to compromise on the security of your phone.
Waterproof
When you go riding can you say for sure that your phone won't get wet. Even if you live in an area with very little rain you should still take into consideration that your phone may get wet. Ensuring you have the right protective cover is important, replacing your phone can be costly.
Flexibility
The type of phone mount you decide on could well depend how flexible you need it to be. Some bike phone mounts are good for just road and mountain bikes. Others can also be used on a motorcycle.
Some systems like the Morpheus labs and quad lock systems have multiple base connectors that can go across bikes cars motorbikes as they make use of a locking case for your phone.
Handlebar mount or stem mount.
This really comes down to personal preference. I prefer my phone mount to be on my handlebar. Because I can quickly glance down and see my phone while keeping the front wheel in vision to ensure I don't hit anything.
I tried the Stem mount for a while as a friend of mine has one and swears by it. But I found it cut out too much of the road ahead of me when looking at the phone.
However I know that having a stem mount will make space on the bar and your phone is mounted back slightly making room for lights etc to be mounted.
Cycling Ambition Recommendation
Overall the Morpheus Labs M4s came out on top for me. Due to its simplistic design, great holding ability even on extreme rides. Combined with the quality and feel of the product. The only limiting factor is being compatible only with iPhones. At the time of writing this review.
If you have an iPhone then this would be the system to get. It's cheaper than our second place the Quad lock and a superior quality product.
If however, you have an android phone then I recommend the Quad lock. With its sturdy dual locking mechanism will ensure that even on your extreme rides your phone stay's attached to the bike.
The reason it's in second place is due to the price which in my opinion is quite expensive for a bike phone mount. I also don't think the quality is not as good as the Morpheus Labs M4s product.