Cycling gloves are a very personal choice. Choosing the right gloves can make the difference to your enjoyment on a ride.
They also play a big part in your safety equipment. The first thing you'll do in an unexpected tumble is to put your hands out to stop yourself.
Gloves will protect your hands better than nothing, but some gloves do a better job at it.
Quick links for more information:
Considerations To Look For Before You Buy
Five Best Cycling Gloves For Winter
Cycling Ambitions Recommendations
Five best cycling gloves for summer
Giro Bravo Gloves
Giro is more famous for its helmets rather than other cycling equipment. But they've been making gloves for a fair few years now.
The three piece palm construction provides you with less bunching of the palm allowing your hand to move naturally. The Gel pads are positioned right on the palm.
The stitching is strong so if you take an unexpected tumble you should find that your hands will not get road rash.
The loops look like they should last but they don't. You'll find that due to the tightness of the gloves they're small for the indicated size. You'll rip the loops off trying to get the gloves off.
I also found with these that they soaked up the sweat, after a while it became uncomfortable. This wasn't an issue on the shorter rides but if you're planning longer rides then it will be.
Giro Monaco II Gel Bike Gloves
The second Giro gloves in the list, this one's designed for longer rides. As such you will need to break these gloves in for longer to get the full benefit.
The gel padding is well placed even for those of you that tend to move your hands around a lot on your handle bar. They'll continue to provide cushioning and reducing numbness on long rides.
Unlike the last Giro gloves, they seem to have got the wicking of the sweat right. The Leather palm provides a good level of grip and feel making you feel more connected to the road.
Castelli Mens Arenberg Gel 2 Gloves
The Castelli name should not need any introduction. In case you're new to cycling these are one of the top cycling brands. They've been designing cycling equipment for over a century.
These cycling gloves are what all gloves should be like because the gel padding surrounds the bar at the perfect locations. Providing you with a good grip and feel from the suede palms.
The gloves are very light and breathable due to the mesh on the back. And due to the mesh, you will need to use suncream on the backs of your hands.
The gloves are well made and the stitching will hold together when you have a tumble. I know they've saved my hands on a couple of occasions when I've come off on a road ride.
The only thing I found on ordering my last pair was that they now run a size smaller than indicated. I'd recommend ordering a size bigger/larger then you would normally.
Pearl Izumi Select Gloves
The PEARL IZUMI select gloves are designed for longer rides. The thick padding on the palms have been well placed to ensure a very comfortable ride no matter what the terrain.
The palm is synthetic leather which provides good grip. It also protects you if you were to take an unexpected tumble.
This gloves generous sweat wipe on the back of the right hand is bigger than most other cycling gloves. The stitching is strong and will hold up well in a tumble.
The sizing of these gloves run a little on the small side. Ensure that you buy at least one size up from the guide to ensure they fit you.
HTZPLOO Bike Gloves
These gloves come with 8mm of foam on the palm. These Gloves have been designed to reduce road vibration and reduce fatigue on longer rides. It's certainly one of the more comfortable gloves I've tested.
The gloves are made from 55% polyester / 45% percent nylon for lightness and flexibility. This brings into question the durability? I got the distinct impression that the gloves would not last that long in a tumble or through general use.
The palm of the gloves has a silicone mesh stuck to it, providing good grip. Feedback from the bike is surprisingly good considering the 8mm of foam on the palm.
Five best cycling gloves for winter
Gore Wear C5 Thermo Gloves Gore-Tex
This product is very good at keeping your hands warm at temperatures between 33°F and 55°F but either side of this and your hands will freeze or sweat heavily.
These gloves do an excellent job of wind protection and are waterproof, while at the same time allowing your hands to breath. But care needs to be taken when removing them as it's easy to pull the inner lining out.
The palm is made of synthetic leather. I found the grip to be good but the feedback was not as sharp as I would have liked but you could still feel what was going on.
There's extra padding on the pressure points at the heel of your hand and the underside of the knuckles; This certainly helps with hand fatigue on longer rides.
Inbike Windproof Reflective Ultra Thermal Cycling Gloves
Inbikes flagship winter gloves. It looks and feels like they have used all the learning points from the other gloves when designing these.
The gloves are quite bulky due to the extra layers built-in and the thermal inner liner. But this means that your hands stay warm and dry. On longer rides, you should still be able to operate the controls without any issues.
The padding on the palm is a mixture of built-in foam and gel. The foam's built into the gloves layers providing a good level of comfort.
There's extra gel padding on the pressure points. I thought the gel was a little hard but when cycling the six miles to work this wasn't an issue.
I also found that the touch screen didn't work. The size of the finger meant it was good for swiping across the screen but not for typing texts.
Inbike Winter Thermal Gloves 
The second pair of winter gloves from inbike to make the list, A testament to the quality of their products.
I'd consider wearing these gloves above 30°F and only when there's little chance of rain. These gloves are only good for a brief shower, any longer than that and they'll absorb water. Making the gloves heavy and uncomfortable.
The multilayering of material keeps your hands warm when combined with the fleece inner. Reviewers for this product mentioned, if your hands sweat inside the gloves it could pull the inner lining out when you remove them.
The leather palm ensures the grip is good and the feedback from the bike is excellent. There are three millimetres of gel padding on the palm, just enough to be comfortable on longer rides.
Kingsbom Waterproof & Windproof Thermal Gloves
The kingsbom thermal gloves will keep your hands warm. They have excellent wind protection, but unfortunately, they are not waterproof.
If you find yourself in an unexpected shower that lasts longer than 30 minutes you will get wet hands.
The gloves are good at protecting your hands from a light quick downpour. But in heavy rain, they absorb the water making your hands cold and uncomfortable.
The grip that these gloves provide is excellent because of the silica gel printed onto the palm and fingers. There's a generous amount of padding on the palm to cushion your ride and stop road vibration.
The elastic wrist band keeps the warmth in the gloves, I found that the elastic was a bit on the small side. I have large hands and found the elastic tight as I pulled them over my hands.
Elite Cycling Project Winter Glove
These gloves have an excellent windproof and waterproof ability due to the multi-layer construction. It combines an outer windproof layer, waterproof central layer, and thermal inner layer. Keeping your hands warm dry in the winter months.
The palms are synthetic leather, giving you a good grip even when wet. Feedback's good due to the amount of padding on the palm of the glove.
Unless it's really cold your hands will sweat in them. While they can be machine washed, it will take a long time to get them dry. Having a couple of pairs around is a must as you can't wash and dry overnight.
All this warmth means the gloves are bulky compared to others. If your gear levers are close together then you could find you are operating both at the same time.
Considerations to look for before you buy
Fit
Your gloves should be a nice snug fit so that your hands not too cramped in them when you make a fist. But not to lose that when you make a fist it rumples the palm making it uncomfortable.
The gloves you buy will give a little as you break them in. Having well-fitted gloves means you have more feedback from the bike, more control when you have sweaty hands, and ensures you'll have a safer ride.
Padding
There are three types of padding in cycling gloves, Gel, Foam, and ethyl vinyl acetate (EVA). Gloves vary with the amount they put in, but as a general rule, they all cover the same area on your palm.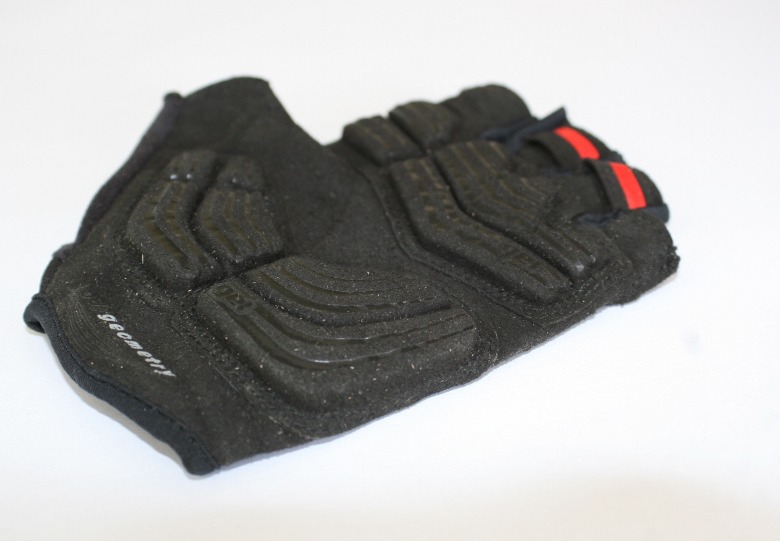 Foam padding is normally found in lower end gloves on the market, whereas EVA or Gel padding is found in higher end gloves.
However too, much padding is a bad thing as your hands will move around on the bars and you will lose grip. Likewise, too little padding and your hands are numb from the vibration in a short period of time
Breathability
Cycling's a physical sport. Your gloves need to let your hands breathe, which helps to reduce sweating.
It doesn't matter what type of gloves you have on, wicking away sweat is important to ensure no chafing.
This can lead to sores or worst case loss of control. Being uncomfortable in your gloves leads to a loss of concentration on a road this could be fatal.
Waterproof (winter gloves)
Winter gloves need to have the ability to keep your hands dry and warm. The majority of gloves made do this to some extent.
Out and out waterproof gloves will make your hands sweat as they're not breathable. Waterproof cycling gloves have to compromise between breathability, waterproof, and warmth.
As with much in life, you'll need to decide what is best for you. For me, I prioritise warmth and waterproofing over breathability.
Touch screen usage
This is a personal choice, I don't need this feature on my gloves. Yet more and more gloves are coming in with this feature, of the ones I've tested none really work.
They're fine for swiping your screen but for more intricate use such as texting, you may well find the fingertips too bulky. But if you're on a long ride and using your phone with a mount then you may find this ability useful to a limited extent..
Cycling Ambitions Recommendations
The best cycling gloves for summer are the Castelli Arenberg Gel II. These gloves are well padded, well made, and will last. It disperses the sweat well and above all, it will save your hands in an unexpected tumble.
The quality of the glove shows though when compaired with the other's. The gloves have a quality feel to them that seems to be missing from the others.
The best cycling gloves for winter are Inbikes's Windproof reflective gloves. They have learned a lot of lessons from their other gloves in their range and incorporated them all into this one.
These kept my hands dry and warm on all rides even when it was torrential rain coming home from work. I can say the other gloves in this review would not have kept my hands dry.